Unleash Your Entrepreneur Factor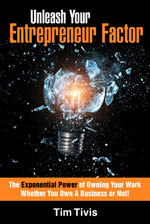 Unleash Your Entrepreneur Factor: The Exponential Power of Owning Your Work Whether You Own a Business or Not
It's time to unleash your E(f) now!
Each of us has a built-in entrepreneurial spirit. A desire to strive for, to build and to succeed at something. It is human nature to passionately pursue what we love and be recognized and valued for our efforts.
"Unleash Your Entrepreneur Factor-The Exponential Power of Owning Your Work Whether You Own a Business or Not", guides you on your personal journey to discovering the true meaning of owning your work and the exponential power it brings not only to work, but to life!
This book is filled with thirty years of real-life, practical experiences and applications to help the founder, CEO, manager, professional salesperson and employee alike. Do you want to put motivation into motion, master your time, increase business opportunities and establish a consistent, high performance work environment? Are you ready to turn a busy day into a productive one? Accept the challenge. It's time to unleash your E(f) now!
"This book is much more than an interesting read, Tim has created a valuable reference for those who engage in the process of the E(f) as either a business owner or employee who takes pride in owning his or her work." ~ Bond Wetherbe ~ Instructor Rawls College of Business, Texas Tech University
"Tim is an entrepreneur who understands how to win in business and in life. He is a gifted teacher who can communicate and inspire others. Everyone should read this book" ~ Mack Powers ~ President Mack Powers, Inc.
Keep Your Eye On The Ball: Building Successful Business Relationships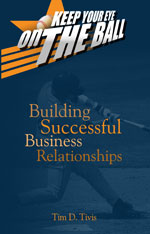 Business is about people period. Regardless of industry, product or service, your ability to build and maintain long term successful relationships will determine the success of your business. Keep Your Eye on the Ball-Building Successful Business Relationships takes a fundamentally, proven approach to relationship building.
From the experienced veteran to the new associate, this easy to read book will provide real, practical and transferable concepts to take your business building efforts to new heights. Focus on what matters most!
The Extraordinary Team Dynamic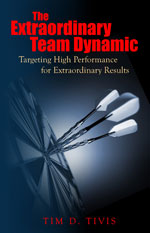 What defines great teams? Is it more than just one event; one season?  While many teams have great moments of accomplishment, or celebrate isolated victories, great teams are defined by their ability to compete at their highest level consistently year after year!
Regardless of circumstance, levels of competition and components outside their control, great teams maximize performance that creates opportunities to win year after year!  Because of this commitment, more times than not, great teams come out on top!
This easy to read book will energize you and give you the strategies and concepts to help your team reach its highest potential time and time again!
*** For information on purchasing "Keep Your Eye on the Ball" and "The Extraordinary Team Dynamic" please send an email to tim@timtivis.com